Mejillones en escabeche.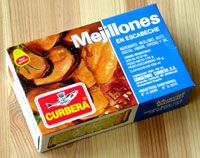 Mejillones en escabeche en lata. Beautiful, bright orange, fat and juicy mussels in a lovely oily orange sauce. A canned snack. Portable tapas; bring your own cocktail stick. Great for food on the go: bread, cheese and a can of these make a tasty picnic.
Escabeche ('pickled') is a spicy marinade of Spanish origin, used to season and preserve fried (occasionally poached) fish and sometimes poultry. It consists of vinegar or lime juice, onions, peppers and spices. It's found with similar names in North Africa (scabetche), Jamaica (escovitch), Italy (escabecio or scavece) and South America (escabeche !).
Here's a recipe for a delicious snack
, using two tins of mejillones en escabeche and a 200g carton of Philadelphia cheese. Basically, you just beat the hell out of the lot and spread it on bread or toast. Fantastic. (You can add tuna or chopped hard-boiled egg, too.)
In Spanish, the instructions read:
"Volcamos en un recipiente para batidora el queso de untar y las latas de mejillones. En un pis pás, nos ponemos a batir la mezcla como desesperados, y cuando lo tengamos bien batido, lo usaremos para untar rebanadas de pan normal o de molde."
Babel Fish translates that as:
"We overturned in a container for beater the cheese to grease and tins of mejillones. In piss pás, we put ourselves to beat the mixture like desperate, and when we have or milkshake, we will use it to grease slices of normal bread or mold."
A Spanish recipe for making your own
Mejillones en Escabeche
;
and lots of
recipes for mejillones
in general.