Less pain in Spain.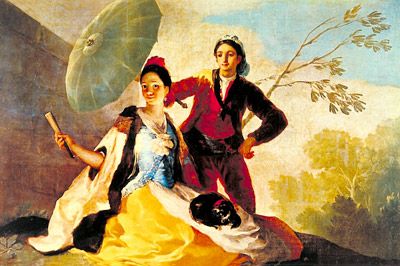 Spain is the first country in Europe to give patients access to Sativex outside a clinical trial.
GW Pharmaceuticals
has reached agreement with the Health Department of The Regional Government of Catalonia to supply the herbal extract. The programme will be coordinated by the Catalan Institute of Pharmacology with six Catalan hospitals participating.
Sativex
, a cannabis extract which is sprayed under the tongue, is to be supplied to 600 patients suffering from multiple sclerosis and a number of other conditions under a compassionate access programme. The programme will include an evaluation of safety and tolerability and an assessment of impact on quality of life.
Notable point: A Judge in Germany criticising criminal prosecution of severely ill persons who use cannabis, said: "Why don't we allow a man with such a heavy burden some good days".
(Source: International Association for Cannabis as Medicine)
Image:
El Quitasol
by Francisco de Goya y Luciente.
About Goya: in
English
, in
Spanish
.